We got up and finishing packing and sorting the car out. We then all got in the car me, Adam & ole! First stop Warrington to drop olive off she loves staying here! Then we got on the road!
It was a long trip! I ended up falling asleep until we hit the boarders!
Then the weather hit! It was so foggy we couldn't see very far at all!  It was a bit scary!
We then hit Glasgow and the traffic was awful, worse than Manchester! It took so long to get to the hotel!
When we got to the hotel we were so lucky there was a disabled bay right outside! We stayed at the Marriott Glasgow.
The hotel was lovely and they kindly granted my requests with foam pillows & extra towels for my feet in bed!
We were given the 12th floor the view was superb!
We unpacked and took half an hour to relax then got ready Togo out! First experience of Glasgow taxis was terrible but they had accessible cabs so not much choice!
We were excited to visit Hard Rock Cafe. I was excited to visit a new one which meant a new pin! Adam also got a glass we get both a pin & glass everywhere hard rock we go!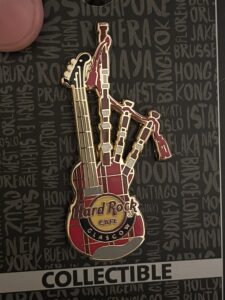 The food & service was really good at Glasgow Adam said it was the best burger he'd had in a while!
We were so lucky after leaving that there was a taxi waiting in the taxi rank (there was literally one!)
We arrived back at the hotel to relax for the rest of the evening!
That's a wrap for day 1! I'm going to split day 2 into the day & then the theatre experience!
Vicky xx